Analysts at EastFruit note that Russia's share in Georgian exports of fruits, nuts, and vegetables (HS07-08) in 2022 remained at the record-high level of the previous year.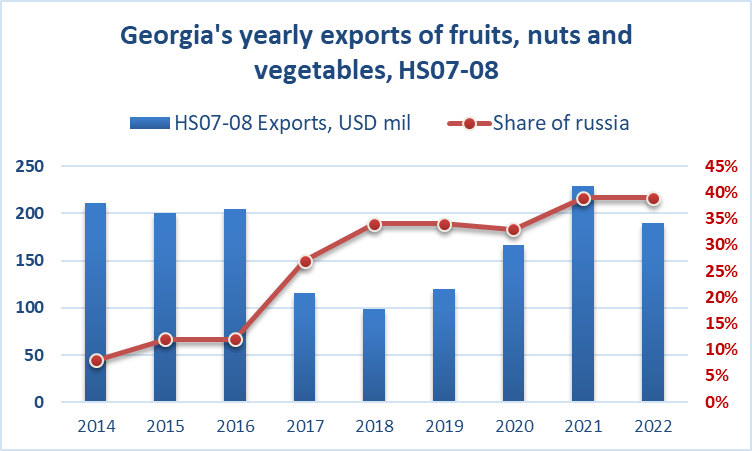 Data source: Ministry of Finance of Georgia
2022 was not an easy year for Georgian horticulture; hence, we see a drop in annual exports. Revenues from the external trade in fruits, nuts, and vegetables have reduced from $230 million in 2021 to $190 million in 2022. Given a war in Ukraine, sanctions against the aggressor Russia, and many Russian citizens leaving their own country to avoid drafting into the army, it can be a bit surprising that Russia's share in Georgian horticulture exports remained at the level of 2021.
TOP-10 exported fruits, nuts, and vegetables to Russia in 2022, $ million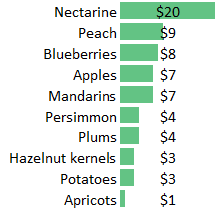 Data source: Ministry of Finance of Georgia
Georgia's ten most exported fruit, nut, and vegetable trade positions to Russia in 2022 constitute 88% of the group's total exports to Russia. Interestingly, the TOP-10 in 2022 also dominates Georgia's export to Russia historically.
Read also: Herb pastes of the "Georgian greens" brand will become available in Georgian and international markets in February
Since 2014, Georgia has exported horticulture produce worth $390 million to Russia, from which 83% is included in the TOP-10 products shown above.
Georgian exports of HS07-08 to Russia in 2022 amounted to $75 million, which is the second highest value, just $15 million lower than in 2021. The exports to Russia in 2014-2022 have been growing by $8 million a year on average. Georgian exports' dependence on Russia came from two key factors:
Georgia has increased its horticulture export potential
Local farmers find it hard to get to western markets and choose the easier Russian market.
EastFruit
---
The use of the site materials is free if there is a direct and open for search engines hyperlink to a specific publication of the East-Fruit.com website.