Georgian exports of edible fruits, nuts and vegetables (07 & 08 in harmonized system) reached record high value in 2021. EastFruit's analysts found that major contributing factor to this success was unusually high demand from Russia.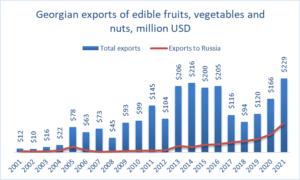 Data source: Ministry of Finance of Georgia
After a drop in 2017 caused by brown marmorated stink bug invasion reducing hazelnut production – a key export commodity, Georgian exports of fruits, nuts and vegetables in 2021 have risen to the highest value observed – $229 million. Exports to Russia have also increased to an unprecedented $90 million, three times higher than 2014-2020 average.
Data source: Ministry of Finance of Georgia
The hazelnut exports have been recovering since the marmorated stink bug invasion, but they are still about two times lower than in 2016 (before the invasion). While hazelnut exports in 2021 have been hampered by unfavorable weather and crisis in Turkey (major producer of hazelnuts), Georgia's record high export revenues from selling fruits, nuts and vegetables in 2021 were mostly achieved through increased exports of other products rather than hazelnuts.
Compared to 2016, inshell hazelnut exports have reduced by $77 million. The gap in exports was mainly covered by mandarins (+ $9 million compared to 2016), nectarines (+ $16 million), potatoes (+ $14 million), peaches (+ $10 million), apples (+ $8 million), blueberries (+ $6 million) and persimmons (+ $4 million).
Key destination for the products other than hazelnuts, which are usually exported to Europe, was Russia. Total exports of these positions have increased by $86 million compared to 2016, and Russia's share in them was 76%.
Thus, the success of 2021 came mostly from a strong demand from Russia, which is a result of bad weather conditions in Russia reducing local supply and driving the prices up. As the neighbor market wanted to stabilize the prices, it turned to importing, and bought almost everything in large volumes.
EastFruit
---
The use of the site materials is free if there is a direct and open for search engines hyperlink to a specific publication of the East-Fruit.com website.