According to EastFruit analysts, in the first two months of 2021, China increased fruit imports by 34% over the same period in 2020 to a record $ 3.2 billion. Thus, in just two years, fruit imports to China in January-February grew by $ 1 billion, or 45%, and in four years (in 2021 to 2017), fruit imports to China tripled!
Considering such an impressive growth rate of fruit imports to China, the decline in imports of cherries looks unexpected. Cherries become a kind of symbol of the country's economic growth, known as "China's cherry freedom."  The decline in cherry imports, however, was rather insignificant – only one and a half percent. Still, during this period, sweet cherries were the No. 1 imported fruit in China.
The import of bananas, unexpectedly, grew by 74%, which allowed the banana to bypass longan – another tropical fruit popular at this time of the season in China. Bananas were exported to China mainly by the Philippines (62% share in imports) and Ecuador (28%).
Longan, also called the "dragon's eye", ranked third among the most popular imported fruits in China in January-February 2021, and its imports grew by 9%. Only two countries supplied this fruit to China – Thailand and Vietnam.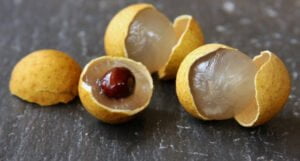 Imports of table grapes also rose, after falling a year earlier during the coronavirus outbreak. In January-February 2021, China imported $ 133 million worth of grapes, mainly from Peru. There was an upward trend in grape supplies from Chile but share of this country was not very high during this period.
The record holder for the growth rate of fruit imports to China over the specified period was mangosteen – an exotic fruit that was supplied to China mainly from Thailand and Indonesia. Its imports jumped 14 times or 1400% over the previous year and reached $ 107 million.
What about durian? After all, we know that durian has been the main imported fruit to China in the recent years. The growth rate of durian imports is still impressive – in January-February 2021 imports of durian to China increased 4.5 times compared to previous year! Therefore, in 2021 we are likely to see a new record of durian imports to China. And -Thailand was the only country supplier of durians to China in January-February 2021.
Among other top positions in the fruit and nut imported by China in the first two months of 2021, imports of the following ones increased: blueberries – by 6%, pistachios – by 7%, pineapples – 2.5 times, peaches – by 40% and plums – by 78%.
The dragon-fruit was the only other position, besides cherries, imports of which dropped in the period in review. Dragon fruit imports to China decreased by 25%.
Chile remained atop the ranking of fruit and nuts supplying countries to China in January-February 2021, earning more than $ 1 billion in just two months. Chile is followed by Thailand, Vietnam, Philippines, USA and Peru. In the United States, the top three export positions were occupied by the nuts: pistachios, almonds and hazelnuts. Moreover, for hazelnuts there was the sharpest increase in supplies – 900 times! For walnuts, supplies also increased significantly. The USA also supplied fresh orange and apple to China, but there was a sharp decline in exports of these fruit categories.
EastFruit
---
The use of the site materials is free if there is a direct and open for search engines hyperlink to a specific publication of the East-Fruit.com website.