The Egyptian exports of dates to South-East Asia will drop in the MY 2022/23, as reported by EastFruit. Nevertheless, their volumes will still be among the highest ones over the past few marketing years, and Egypt will remain the leading exporter of dates to the region.
In the MY 2021/22, South-East Asia imported record high 28,400 tonnes of dates from Egypt. Meanwhile, in the first nine months of the current MY 2022/23 (July-March), Egyptian exporters shipped just 22,400 tonnes of dates to the region. Such volumes are lower than a year before, but still are on one of the highest levels over the past years.
Exports of Egyptian dates to South-East Asia usually peak in winter-spring, with the period between December and March as the most active one. Thus, Egyptian exporters have almost no chance to reach the results of the previous season, but their sales volumes will remain rather large.
Read also: Dates top the ranking of Moroccan fruit and veg imports
In addition, despite a drop in exports, Egypt will still be the leading exporter of dates to South-East Asia. The UAE, Egypt's nearest competitor, shipped just 13,700 tonnes of dates to South-East Asia in July 2022 – March 2023. Imports from other countries will even less significant: 10,500 tonnes from Tunisia, 10,400 tonnes from Saudi Arabia and 7,700 tonnes from Iran.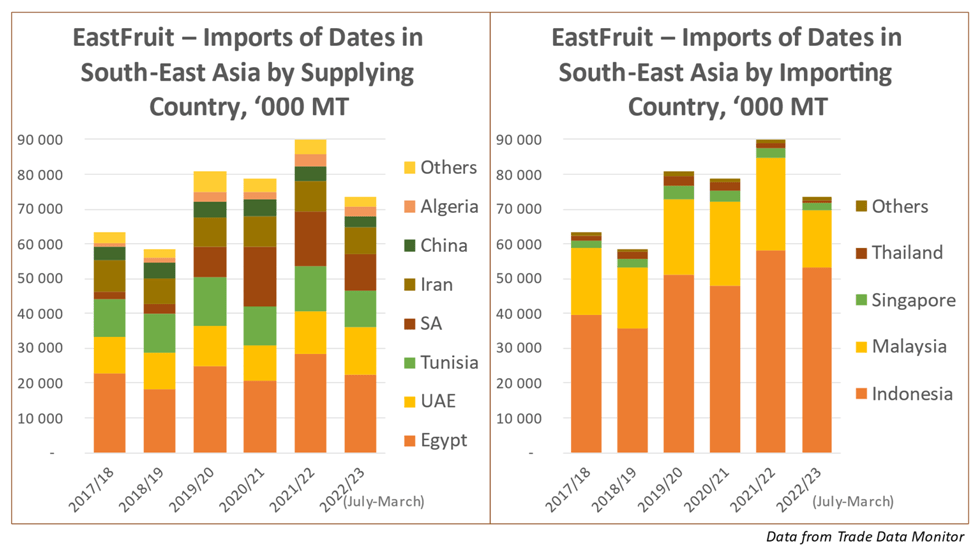 Altogether, South-East Asia annually imports from 60,000 tonnes to 90,000 tonnes of dates, with the key importers represented by the countries with high Muslim population. Indonesia and Malaysia jointly account for 90% of South-East Asia's total imports of dates.
For Egypt, Indonesia and Malaysia, along with Morocco and Turkey, are one of the most important export destinations for dates. Taking into account Egyptian exporters' ambitious plans of increasing their presence in the global market for dates, those markets will most likely face rapidly growing competition between suppliers in the nearest years.