Egyptian exporters significantly increased the supply of dried onions to the US market in 2022, EastFruit informs. Moreover, Egypt became second in the ranking of the largest suppliers of dried onions to the USA!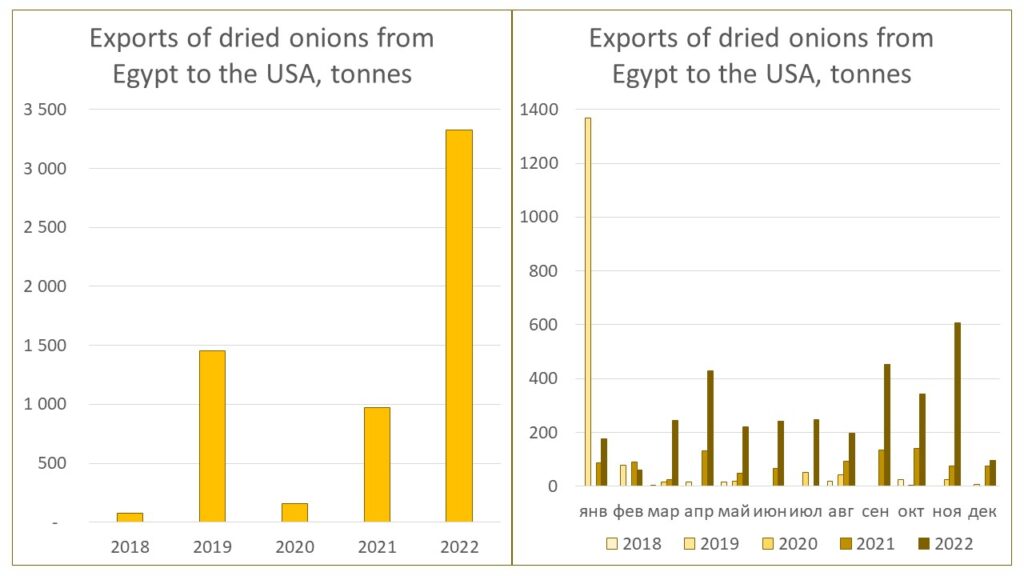 For example, 3 300 tonnes of dried onions were sent from Egypt to the United States in 2022, which was more than three times higher than in 2021, and more than double the previous record (2019). At the same time, in 2019 almost all Egyptian exports to the American market were in January, but the supply season gradually stretched then. As a result, for the first time, Egyptian dried onion exporters delivered their products without interruption last year – 12 months a year straight.
Read also: Egypt builds presence in UK sweet potato market
Moreover, Egypt became second among exporters of dried onions to the US market, ahead of its competitors from India and some other countries. It should be noted that the United States itself is a major exporter of dried onions, annually exporting 27 000-31 000 tonnes. However, dried onion imports to the US remain high, ranging from 6 000 tonnes to 9 000 tonnes annually.
Only three countries supply dried onions to the US (China, Egypt, and India), while US exporters focus on the markets of advanced economies (Japan, Canada, the UK, etc.). With rare exceptions, the imports of dried onions are quite stable and it is quite difficult to single out peak periods. Most often, demand for imported dried onions from the United States grows during a period of problems with its own onion production.
Unlike fresh onions, which are sold and bought by many global trading companies, dried onions are mainly a product for large traders and food giants. Such companies rely either on their own production facilities or on building long-term contractual relationships with suppliers from various countries. It should be noted that at the end of 2022, Egypt was the fifth largest supplier of dried onions in the world, second only to India, Malaysia, China, and the United States.
EastFruit
---
The use of the site materials is free if there is a direct and open for search engines hyperlink to a specific publication of the East-Fruit.com website.