Over the past five years, the exports of dried fruits from Georgia reached their pinnacle in 2020. More than 600 tons of dried fruits were exported last year, which earned the country up to $2 million. When comparing the data from 2020 to 2019, exports increased by 46% in quantity and 58% in value.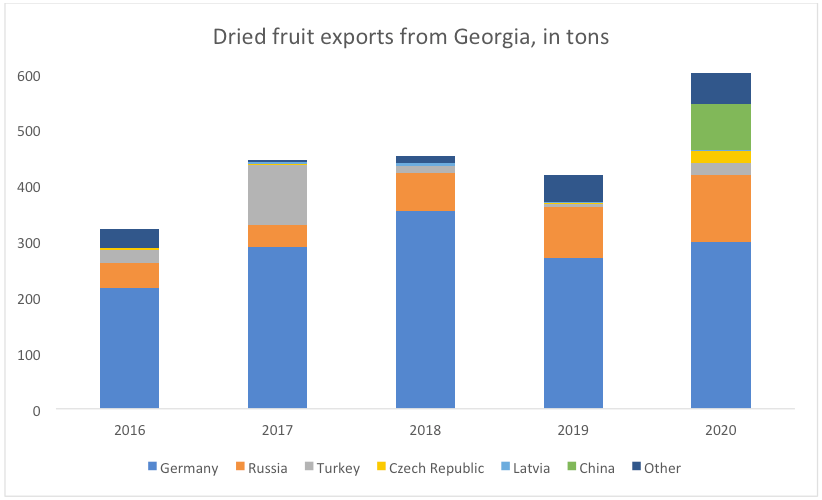 Source: geostat.ge
In 2020, 48% of Georgia's dried fruit exports went to Germany followed by Russia (20%) and China (13%). Germany has been the largest market for dried fruits from Georgia over the past five years. In 2016-2020, supplies to the Russian market were also stable. Last year, China took third place in dried fruit exports from Georgia for the first time where up to 82 tons of dried fruits were exported. In previous years, China's share of dried fruit exports was insignificant.
The number of trading partners has increased significantly over the past five years as well. Georgian dried fruits were exported only to 11 countries in 2016, but by 2020, the number of countries increased to 24. Last year, Japan was added to the number of new markets, but Germany and Russia remain the main markets.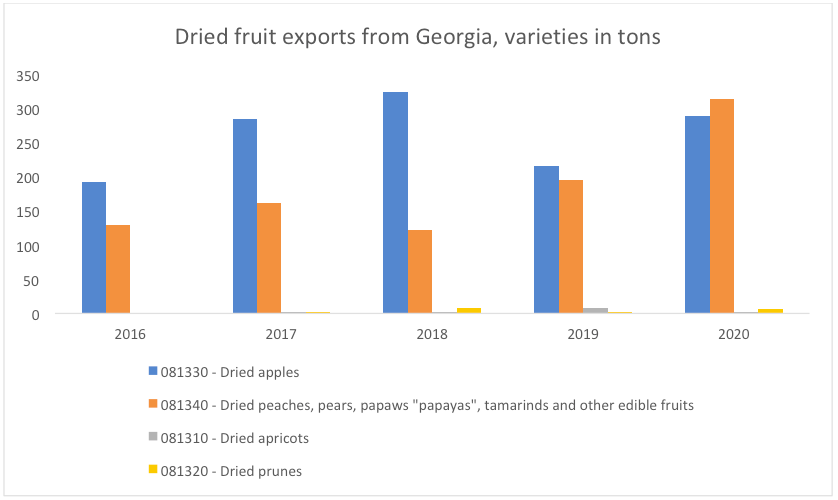 Source: geostat.ge
Up until 2020, dried apples were exported from Georgia in the largest quantities, but last year dried fruits under the commodity code "other dried fruits" (not including prunes, apples, and apricots), bypassed apples. Out of 609 tons of dried fruits, 313 tons belonged to this commodity group and only 287 tons belonged to dried apples. Besides traditional dried apples and prunes, Georgia produces dried persimmons, which are important for exports. Georgian companies have also started to produce dried watermelons, melons, kiwis, and berries, which are interesting for export markets and less targeted by local consumers.
What was the reason for the increase in dried fruit exports from Georgia in 2020?
Georgian farmers had a good harvest of apples, plums, and persimmons last year. This is reflected in the export figures as well. Exports of fruits such as apples and persimmons have increased – persimmon exports increased by 38% and Georgia also exported a record number of apples. A place with a good harvest means the processing of fruits, including in the form of dried fruits, and their exports naturally increased.
In addition to a good harvest in 2020, dried fruit companies have reached specific agreements with exporters and entered new markets. The reason for this development was the introduction of new food safety standards in enterprises, which is often a prerequisite for exports. Gemuani, which is located in western Georgia, produces up to 30 different freeze-dried dried fruits and received an International Food Standard (IFS) certificate in 2019, after which interest in their products increased in export markets.
Read also: Gemuani: New packaging and export growth for its freeze-dried products from Georgia
In 2020, the company acquired an important trading partner like Nestle. Gemuani has become a supplier of raw materials for the Russian branch of Nestle since last year. The company did not disclose the details of the agreement, but, in 2020, 120 tons of dried fruits were exported from Georgia to Russia, which is 33% more than in previous years.
Another company that acquired new trading partners in 2020 and increased exports is Kareli Fruits, which is located in Shida Kartli. In addition to the traditional dried apples and plums, the company also produces dried watermelons and melons. Since 2020, Kareli Fruit has introduced a new food safety standard and has migrated from ISO 22000 to a new version of FSSC 22000 standard, which provides for stricter food safety measures. According to the director of Kareli Fruits Anano Bezhanishvili, the introduction of the new standard was necessary in order for their products to become more in demand in export markets. As a result, Japan became interested in their dried fruits from watermelon and melon, which are less popular in the local market. In total, the company exported about 30% of total production in 2020, while in 2019 the share of exports was about 5% of production.
EastFruit
---
The use of the site materials is free if there is a direct and open for search engines hyperlink to a specific publication of the East-Fruit.com website.