The blueberry season in Georgia is just around the corner. The harvest is slightly delayed due to the harsh spring and will start in a week. Earlier, EastFruit discussed export prospects for the 2022 season with local producers. After the Russian invasion of Ukraine, blueberry growers have some concerns about the upcoming season, as Russia is the main buyer of Georgian blueberries. Producers are now confident that Russia will remain the main buyer this season as well. Although recently the British Fresh Food Trade Association published an article about some of the biggest blueberry companies in Georgia.
In order to promote Georgian blueberries in European markets, Enterprise Georgia, the state export support program, organized a meeting of buyers from the UK and Georgian blueberry producers in April 2022 to discuss the export potential of Georgian blueberries to the UK.
According to Bahia Salukvadze, co-founder of the Georgian blueberry company Blue Bird, local producers were informed about the requirements for exporting to the UK, including certification and packaging standards, at the meeting. It was an introductory meeting without actual results for local producers, she said.
"Due to complex logistics and supply issues, the UK market currently seems less realistic for Georgian blueberries. In addition, to enter the UK market, we need not only certification, quality and packaging, but also a competitive price. Currently, prices on the Russian market are higher than on the European one," says Salukvadze.
According to local producers, 1 500-2 000 tonnes of blueberries will be harvested in Georgia this season.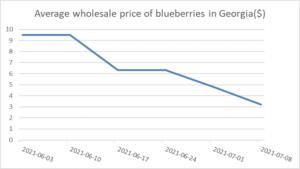 Source: EastFruit
According to EastFruit, blueberries were sold at $9.5 (30 GEL) at the beginning of the 2021 season but at the end of the season, prices dropped to $3.2 (10 GEL). Prices for the 2022 season are not yet known but local producers are negotiating with buyers in the Russian Federation, expecting the season to go as usual – most of the Georgian blueberries will be sold on the Russian market.
EastFruit
---
The use of the site materials is free if there is a direct and open for search engines hyperlink to a specific publication of the East-Fruit.com website.