According to EU's RASFF portal (RASFF – the Rapid Alert System for Food and Feed), in the recent 17 months 17 shipments of hazelnut kernels from Georgia were rejected at the EU's customs. EastFruit analysts point out that three quarters of the shipments were rejected due to aflatoxins and there were two additional notifications due to salmonella. Overall, 7% of Georgian shelled hazelnuts' consignments to EU have been halted at borders during the discussed period.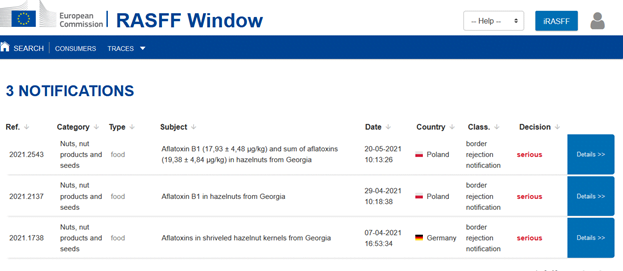 Exporting low quality product is very expensive, as rejected hazelnuts are sent back to the country of origin at the cost of the supplier. In addition to rejections, Georgia receives lower prices for exported hazelnuts due to these quality problems.
Since 2015 and up to now, country could have gained at least $130 million USD more if hazelnuts were sold for at least the average global price. According to EastFruit's estimates, only during the current season Georgia lost more than $14 million USD in hazelnut export revenues. Significant share of this potential income, which Georgia loses, would have gone to growers via higher prices and could have been used to further upgrade the quality of the nuts.
Despite the challenges, the sector lately was showing some positive signs: during the harvest of September 2020, production has significantly bounced back from the lows due to the brown stinkbug infestation. However, we see that there is still significant job to be done to ensure high quality and better prices, minimize rejections and increase revenues.
The good news is that Georgian hazelnut growers are also acknowledging the problem and are actively working to ensure high quality of the product. Hopefully, current expectations that the next season should be better in terms of quality will come true and improvements will continue.
EastFruit
---
The use of the site materials is free if there is a direct and open for search engines hyperlink to a specific publication of the East-Fruit.com website.