Fruit properly frozen within two days of harvest often retains more vitamins than a week-old fresh fruit. The frozen fruit industry in Moldova is not yet highly developed, but the large supply of fresh fruit has prompted some companies to buy suitable equipment and freeze large volumes of fruit, mainly for export. This is told by Yulia Tymoshenko, head of the project for the production of frozen fruits "Tiferet" (Moldova), EastFruit writes with reference to FreshPlaza.
Freshly picked fruits are sent for processing
"Before the pandemic, the market was stable. However, prices became volatile after that, particularly this year, and large retailers and processors are now waiting to see what happens next." Yulia Tymoshenko says.
Fruits are being washed
"Tiferet" statically freezes its fruits
"We freeze fruits for 12-24 hours at -35º Celsius. The result is the same as with individual quick freezing in tunnels. Some fruits, such as raspberries, even look better after static freezing (with fewer damaged berries). We can freeze 40 tonnes per day. Our season usually starts at the end of May and ends in October, but the harvest was shorter this year due to the weather. Thus, we have frozen more than 1 000 tonnes of fruit in one month and about 200 tonnes more. The limitation of volumes this season is due to the high price of electricity. We had to make a choice," the leader sums up the season.
Summer is a busy period
Strawberries open the season. According to Yulia, the company harvests their berries with a Brix value one or two points higher than for sale on the fresh market. The berry should be red, without green spots. "Tiferet" uses a "Marmalade" variety of strawberries – its price is suitable, too. About 500 tonnes of frozen fruit are usually processed in summer, two to three loads per week.
"Summer is the busiest period because we carry out four operations: pre-cooling, freezing, storage, and sale simultaneously," Yulia adds.
Tiferet focuses on the Western European market. The very first export went to Austria. The ban on deliveries in Russia does not apply to the company's products, but berries are not currently sent there. According to Yulia Tymoshenko, Tiferet became a partner of a subsidiary of a large Polish company in Russia in 2018. The partners maintain close contact despite the suspension of exports.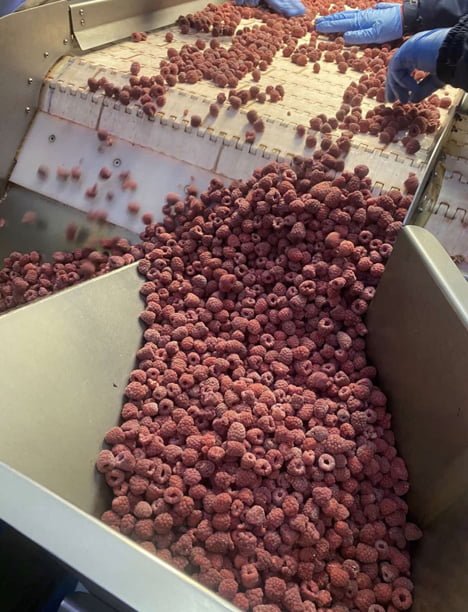 Expensive raw materials
Julia explains that the purchase prices for almost all fruits almost doubled last year: "The prices are even higher this year. Raspberries were especially expensive. This is partly due to speculation and partly due to poor weather conditions in parts of Europe. Several frozen food companies coped well with high prices last year and are trying to maintain the same prices this year, and they are failing."
According to the expert, the rise in raw material prices last year was partly due to speculation, and partly due to bad weather in parts of Europe. The price increase continued this year during a general increase in costs for fuel, energy, wages, materials for processing/packaging, etc.
"High gas prices have already caused several refineries to stop their production, including one of our good customers in Slovakia that produces jam, and inflation in Europe is making consumers wary. Frozen food companies usually try to find out what's going on with prices in Serbia – it has large stocks and to some extent determines the situation on the market," Yulia Tymoshenko states.
Dead end market
However, Ukraine completely changed and even stopped the market this year, Yulia explains: "Ukraine usually enters the frozen fruit market a little later than Moldova with large volumes, because it has more remontant varieties. We paid a lot for our raw materials. In the case of raspberries, an average of 3.5 EUR. In addition, according to the forecast made at the beginning of the year, based on the market situation and information from customers, frozen raspberries will be sold at 5 EUR."
"Because of the war, they didn't expect much from Ukraine this year, but it had a normal harvest. As Ukrainian growers needed money, they sold their fruit cheaper than usual. The first offers of frozen raspberries from Serbia cost more than 5 EUR, while raspberries from Ukraine cost 3.50 EUR for the same quality. This is a huge difference. Some traders buy in Ukraine, while others do not. They are waiting for other countries to reduce prices as well. A rather difficult situation when you bought your raw materials at high prices. Thus, we do not sell much – only one cargo per week," the project manager describes the current situation.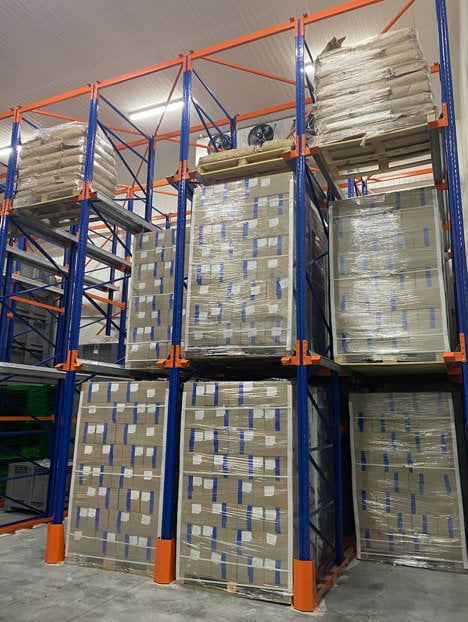 "But, you know, the beauty of it is that everyone in the chain keeps each other up to date with market developments and opportunities. Even competitors help each other. It's weird, but it happens: a competitor finds a buyer for you. However, things do not look very promising in the coming weeks and months. Serbia is not cutting prices much yet, and the question arises: how much more are consumers willing to pay for fresh or processed fruits this winter?" Julia concludes with some concern.
Tiferet is a frozen fruit production company in the Causeni region in the southeast of Moldova. It started in 2014 as a plum, apricot, cherry, and black currant growing company. In 2017, Tiferet became a producer of frozen strawberries, raspberries, blackberries, apricots, plums, and sea buckthorn. Two Italian companies developed the plan for the plant, and the freezing equipment was provided by Polish companies. Production meets European standards, and the company is working on obtaining the necessary certificates for export to Canada and the United States. They ship most of their frozen products to Germany, Austria, Italy, Czech Republic, Belgium, Hungary, Poland, Romania, and Ukraine.
EastFruit
---
The use of the site materials is free if there is a direct and open for search engines hyperlink to a specific publication of the East-Fruit.com website