The blueberry sector continues to demonstrate high growth rates among the entire fruit and vegetable sector of Ukraine. According to market experts, the number of plantings of this berry grows 2.5-3 times a year. Despite the fact that production is increasing quite rapidly, blueberries are still the most expensive berry in Ukraine. Agri-gator conducted an exclusive interview with Maxym Savenko, owner of the Blueberry Savenko berry farm, and found out what "newbie mistakes" are made by those who decided to grow blueberries and how the entrepreneur manages to combine HoReCa's business with agribusiness.
The business history of Kyiv entrepreneur Maxym Savenko is an example of how dreams from childhood find us over time. An education investigator, Savenko dreamed of starting his own business. Besides, the man had sympathy for the sphere of HoReCa and agriculture. After the successful opening of the pizzeria, the businessman decided to test his strength in the agricultural business. In 2015, in Obukhov (Kyiv region) on a plot of 2 hectares, Savenko planted a blueberry plantation.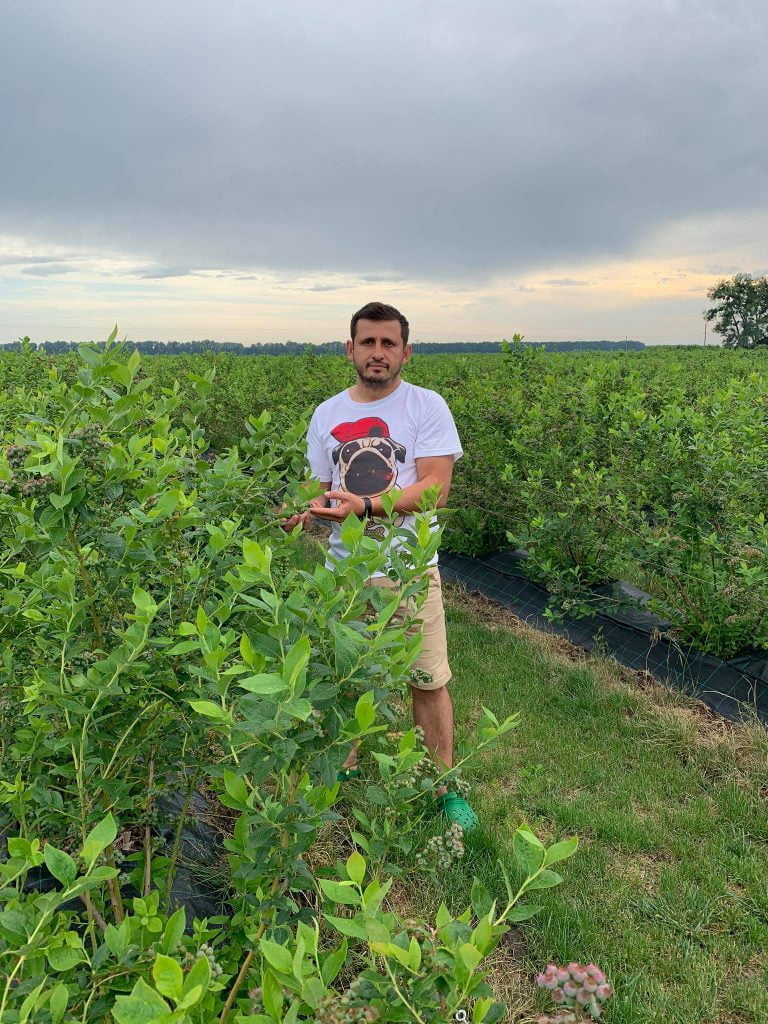 – In 2015, blueberries were a fairly little-known culture. Why did you decide to start growing this particular berry?
– M.S.: At first I had several options: strawberries, raspberries, and blueberries. The Kyiv region is not suitable for early strawberries, while harvesting of late strawberries requires significant investment. I focused on blueberries because I had some idea how to work with it. I received all the information mainly at seminars, conferences, and communication with market experts.
– Where did you study technology? Were there mentors, or people you were targeting?
– M.S.: Yes, the model used was developed by the farm called "Fruit Orchard" and the Dombrowski family who in 2015 they began to plant blueberries. Our plots are nearby, and seedlings were also bought on their farm. The director and agronomist of the farm Anna Dombrovskaya gave professional advice, and I tried to act according to her method. In addition, I reached many things on my own, through trial and error. For example, at many seminars, it was said that the irrigation rate for a blueberry bush is 5 liters. However, in practice, it turns out that there is a moisture evaporation factor. I had to raise watering standards, and despite the words of those around me who said that it wasn't possible, I ended up being right.
– What problems did you encounter and what "newbie mistakes" were made in the process of growing the berry?
– M.S.: I got an old neglected garden, on which there was no electricity. When I wanted to pass the light, I had problems with getting permission. As a result, the process of connecting electricity took about a year. In general, in the process, I made a lot of mistakes. For example, last year I planted small blueberry bushes. After rains, the heat hit sharply, and the bushes began to dry out. I panicked, long reflecting on what could be the reason, and it turned out that I did not do what I did before. Namely, I was too lazy to fix the tape.
– What varieties of blueberries have relied on? And how much did you manage to expand in 5 years?
– M.S.: Now we grow "Blucrop", "Reka", "Duke", "Toro", "Chandler". Since 2015, we have expanded from 2 to 6 ha.
– Do all products go only to the domestic market?
– M.S.: Yes, in Kyiv, it is sold in the markets, and in the region in supermarket chains. I have buyers who take products for resale to the foreign market. Currently, my volumes do not allow me to export, and for this, we need to create partnerships.
– In early May, information appeared that Ukrainian producers of blueberries BigBlue Organic Blueberry Farm, Grass Avenue, and Obolon have teamed up in a cooperative to sell products. Have you considered for yourself the opportunity to enter such an association?
– M.S.: If I receive such a proposal, I will consider it. So far there were only talks about this, but no concrete proposal has been received. In turn, I note that despite the fact that I have only 6 hectares, I built a refrigerator for 10 tons on my territory. As for now, it is for personal use, but if manufacturers contact me, I will consider options for cooperation.
– Today, market experts record a decline in record-high prices for the first batch of blueberries. Literally, in a week, prices fell on average by 25%, from 400-450 UAH / kg to 300-400 UAH / kg. Very soon, the supply in the market will increase. In your opinion, what will happen to the price this year?
– M.S..: Over the past three years, a steady decline in prices for blueberries is observed. In addition, it is despite the weather conditions, namely minus 20-30% per year. Unfortunately, there is no way to avoid such a decline as the number of manufacturers is increasing and the prices reduce. In the wholesale markets of Kyiv, there are a lot of small producers who have half a hectare or one hectare. They exhibit products "in the basket", namely without packaging and at a low price. We do not have a properly formed and controlled market. I was pleased with the price that was last year. We collected about 11 tons of blueberries, and the price from the field did not fall below 100 UAH / kg. I hope this year the result will be no worse.
– How difficult is it to combine two businesses of various kinds? Are there times when one reinforces the other?
– M.S.: It is very difficult. Now I talk with you, and at the same time I am looking for plumbing equipment for a pizzeria, and then I need to go to the field. For this reason, I do not plan to expand the gardens. Agricultural business and, in particular, berries, require a lot of attention. I saw different agronomists with vast experience and worthy education, making ridiculous mistakes in terms of fertilizers and irrigation. Plants need to be felt, and it is important to do a daily walk. As for strengthening the business, we are operating a cafe and during the season we make pleasant "compliments" from blueberries to visitors. Our customers value it.
– What tasks are set for Blueberry Savenko for the coming year?
– M.S.: There are plans to launch another sales channel, in particular, processing blueberries. Now I have purchased equipment for gelato (an Italian frozen dessert made from fresh cow's milk, cream, and sugar, with berries, nuts, chocolate, and fresh fruit). I finished courses in Italy to learn about this technology. Unfortunately, so far I can not pick up the equipment due to the COVID-19 pandemic, so the implementation of this idea is postponed until next year.
EastFruit
---
The use of the site materials is free if there is a direct and open for search engines hyperlink to a specific publication of the East-Fruit.com website.