Tatiana Bordiyan and Natalia Mursa have been in the berry business for a long time, starting their business with a sea buckthorn plantation. Tatiana and Natalia thought about growing blueberries six years ago, when the first plantation of this berry appeared in Moldova. In 2014, Tatiana began to communicate with Yuri Tarai, the founder of Lolly Berry, the first Moldovan blueberry producer on an area of ​​10 hectares. When he moved to America, they bought Lolly Berry. Thanks to them, the "blueberry business" in Moldova got a second chance. An additional irrigation system was installed on the plantation and the plantation was expanded to 13 hectares. The company continues to supply high-quality and tasty berries to the domestic market. The plans for the future are quite ambitious. Tatiana claims that the co-owners of Lolly Berry are now working on a project to establish a new plantation.
– Is it easy to open a blueberry growing business in Moldova? What difficulties did you face?
– It is very difficult because the local land, with rare exceptions, is not suitable for growing blueberries, especially in terms of the pH level. The previous owner found more or less suitable land in the area of ​​Strashen. But he had to import a lot of peat from Ukraine and Belarus. Trenches were dug, filled with a mixture of peat, pine chips and sand. Blueberry seedlings imported from Poland were planted in this soil. These are the most troublesome and capital-intensive operations.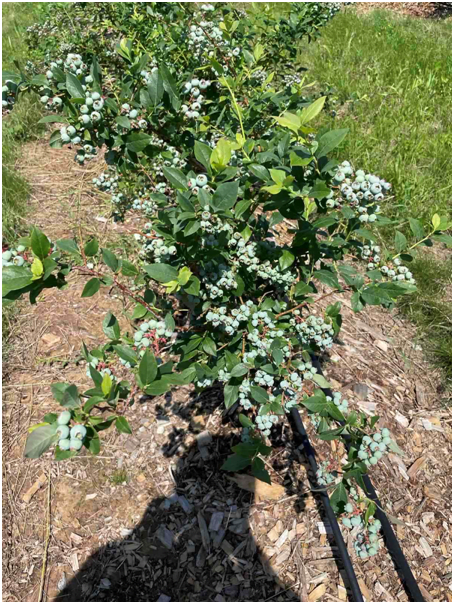 – Do you mainly sell fresh or frozen berries? What's your pricing policy?
– We try to sell blueberries fresh, because they are tastier and healthier. Although berries do not lose their nutritional value even during freezing, it is better to use them frozen for making smoothies or in cereals. The first time we tried to sell frozen blueberries, the demand was higher than the supply. Then we decided to freeze a part of the blueberry harvest every year. For a consumer, there is almost no difference in price compared to fresh berries. We have changed our pricing policy over the past few years and reduced retail prices from 250 ($14.2/kg) to 150 MDL/kg ($8.5/kg). Moldovan blueberries have become more affordable for buyers, which has increased market demand.
– Many farmers argue that labor is a critical issue. How are things going in your case, is blueberry harvesting also done manually?
– We collect blueberries only by hand, because they ripen gradually. But so far we have not had any problems with the labor, since we have a stable team of workers, we try to provide people with employment throughout the year, not only during the harvest season. We also support them financially in the winter so that people stay in the country and not go abroad. Most of the workers are from neighboring villages.
– What problems do you face now? What are the risks of such a business in our country?
– One of the biggest problems is insufficient production experience. We often have to travel to Poland or Ukraine, to consult with our colleagues, berry growers, who have not only plantations, but also the opportunity to use the services of qualified berry agronomists.
– What kind of support has the EBRD provided?
– We received a grant for consulting services for three years, which helped us a lot last year. We decided to increase the planted surface. There will be more products in the future due to this, and we will be able to compete more effectively with importers of berries.
– What are your plans for the future?
– We will continue to expand the business. The new plantation will be slightly different from the current one – a little more peat for root nutrition. The irrigation system will be integrated with the central computer, the system will analyze and regulate the volume and timing of water supply. We will also use agrofibre or agrotextile, which retains moisture in the soil, not allowing it to evaporate. Hopefully this will save water. We have not thought about processing yet, as we are working for the fresh market and freezing. When processing, you can no longer do without the addition of sugar and some preservatives. For this reason, we avoid processing for now.
– One of your projects is to introduce a new American technology for growing blueberries in tunnels. How and when will this happen?
– In a broad sense, it is the "dream of tomorrow". New American technology implies growing blueberries in tunnels, much like in greenhouses. It is grown in pots and requires less peat. There is less dependence on weather conditions. It is important that there is sun, so that the berries accumulate sugar content, ripen on time. We plan to invest, gain knowledge abroad. At the same time, we will try to maintain an acceptable price level for consumers.
– Do you plan to enter new markets and exports?
– Our goal is to satisfy the Moldovan market with fresh local berries, and we are working on this. With the growth of production planned for the next few years, we will also expand supplies to the EU and Russian markets. Also, the yield should be about 5-7 tonnes per hectare, and thus, 65-91 tonnes per 13 hectares of the company's area, but we harvested only 20 tonnes last year.
– There is competition even in the domestic market. What are your competitive advantages?
– The biggest competitors are berry importers from Romania. But our berries are always fresh. For example, they are harvested today, they cool down overnight. The next day they are available in the retail stores and on the consumer's table. Our blueberries were also cheaper compared to those imported from Romania this year. Blueberries are expensive premium-segment berries not only in Moldova, but also in many European countries. They cannot cost as much as, for instance, raspberries or blackberries here. But we want blueberries to be more affordable to the average Moldovan consumer. We want to make our customers happy.
– In addition to blueberries, you also grow sea buckthorn. How do you sell it and what are your plans for the future?
– We sell sea buckthorn in social networks, chain stores and, of course, some restaurants buy it for seasonal tea. Retailers contacted us to buy our berries. The planting area of ​​sea buckthorn (36 ha) is larger than that of blueberries (13 ha). So far, we also sell it fresh or frozen, without processing. It starts to oxidize within 42 hours if it is not frozen. We cut sea buckthorn with twigs and freeze it within two to three hours after harvest. The harvest is sold until March. We are currently working on the expansion of these plantations (Clara varieties, as well as Mara and Dora).
EastFruit
---
The use of the site materials is free if there is a direct and open for search engines hyperlink to a specific publication of the East-Fruit.com website.